3030 S. Broadway St La Porte, TX
Floorplans
Last Updated:
2 months ago
Matched
Studios (1)
1 beds (1)
2 beds (4)
3 beds (3)
Beds
Bath
Rent
Size
Available
1
481+ft2
Ask
1
587+ft2
Ask
1
558+ft2
Ask
1
1,022+ft2
Ask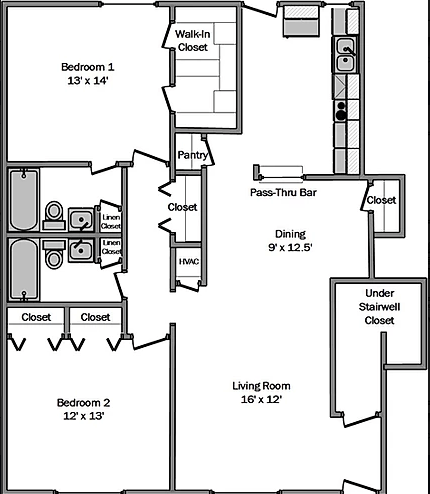 2
1,122+ft2
Ask
Pets
Dogs Ok
Cats Ok
Pet Friendly Community
Breed Restrictions: no aggressive breeds
Size Restrictions: 45-pound weight limit
Amenities
Air Conditioning
Dishwasher
Refrigerator
Garbage Disposal
Walk In Closets
Cable-ready
Near Kemah Boardwalk
Living Room
Ceiling Fans
Outdoor Space
Freezer
Court Yard
Heating
Range / Oven
High-speed Internet
Picnic Area
Parking
Covered Parking
Off-street Parking
More Info: Reserved Parking $50.00 monthly
Property Details
Delta Residence consists of 6 beautifully landscaped communities in La Porte, by Trinity Bay southeast of Houston, Texas. Our prime location places you in close proximity to parks, recreation and easy access to freeways. Our homes are newly renovated and offers the best amenities available in apartment living. With the variety of features and amenities that Delta Residence offers, we strive to provide a welcoming environment for you and your family that meets your desired features and budget.

We offer beautifully landscaped common areas with spectacular lush courtyards that allows a lot of shade, including decorative iron fencing with restricted access. Apart from the Bayou frontage views, our communities have on site management and maintenance. Upgrades to carefree living with Optional Utility Packages and on site storage facilities are just a few of the Delta Residence amenities.
Delta Residence offer a variety of apartment homes from Efficiencies up to 3 bedrooms with 2.5 bath and Townhomes ranging in size from 481 SF to 1,565 SF. Our apartment homes have been beautifully upgraded, offering open concept floorplans with ample living space. Our kitchens are fully equipped with modern appliances, including gas and electric stoves.
Office Hours
Monday: 8:30 AM - 5:30 PM
Tuesday: 8:30 AM - 5:30 PM
Wednesday: 8:30 AM - 5:30 PM
Thursday: 8:30 AM - 5:30 PM
Friday: 8:30 AM - 5:30 PM
Saturday: 10:00 AM - 5:00 PM
Additional Info
Total Unit Count: 202
Last Updated: 2 months ago
Contact Number: (832) 861-0407
Property Manager
: Bo Management
Where You'll Live
---
Delta Residence
3030 S. Broadway St La Porte, TX, 77571

Walk Score ©
10
Car-Dependent
Review This Property
Write a Review
---
No Rentable reviews yet.
Be the first!