When you are looking to move from one home to another, choosing PODS can be a good option allowing you more flexibility. But what is the cost of PODS, and how do they compare to their competition?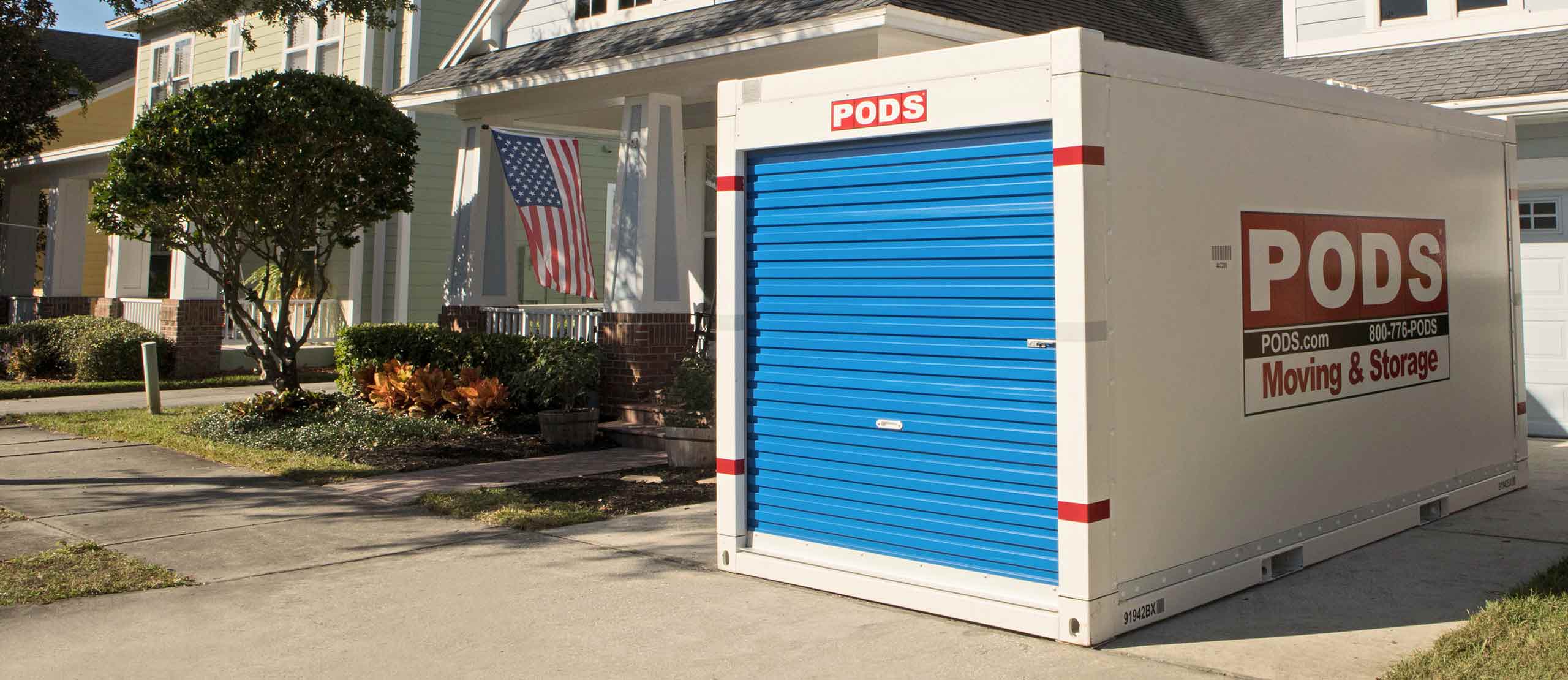 image via pods.com
Moving with PODS can be very convenient because of how accessible your possessions will become. They can also be more economical when compared to renting from a storage facility.
Whether it is your free boxes for moving or other things you need to access, having a POD will be super helpful when selling a home and completing your move.
Let's take a look and how much a pod costs, along with other helpful information about renting a storage container.
POD Moving Costs
Your exact PODS cost will depend on several factors. What size containers do you need and how far you will need them transported are just a couple of factors to consider. If your move is only local, you can expect to pay between $200 and $800.
If you're moving to a new state, you are looking at PODS pricing in the range of $400 to $7,500. The cost, of course, increases if you need more containers and storage for a longer period.
Included in the price is a month of storage and transportation costs. However, you will need to add the expense of packing materials and labor if you need it.
What do PODS Cost if You're Moving Locally?
There are three container sizes to choose from – 7', 12', and 16' – though the prices don't actually vary that greatly. Prices can also be slightly different depending on your location, but as a rough guide, 7' costs $164.99 per month, 12' costs $189.99 for the first month, and 16' costs $199.99. Additional months will cost $164.99 for all size containers.
Delivery and collection of your container are going to cost just under $100 each time. If you need to move the POD to a new location, they charge $89.99. Insurance starts at $10 a month but could go up to $450, depending on the level of cover you need.
Alternatives for Local Storage
If you need more time to store your items, whether during a move or for some other reason, there might be some better local options.
Renting a local storage unit could offer you lower fees, especially if the company is newer and trying to establish itself. A storage facility nearby might be a better option if you're looking for long-term storage, without the additional cost of having to move your possessions a couple of times. If you work odd hours, you might want to consider a top storage facility with 24-hour access.
Local moving companies can also offer warehouse space for your possessions. You can expect the storage rates to be slightly higher than normal storage facilities; however, access to your items will be more limited.
The Cost of PODS for a Long-Distance Move
When you are moving interstate, you can expect to pay considerably more than for local moves. The PODS website doesn't offer instant quotes for long-distance moves, probably because of the number of variables it involves. So you will need to call them to find out your exact charges for this service.
Interstate costs will start at around $2,000 for a one-bedroom home, rising to $4,000 for further distances. If you have a 2 or 3-bedroom property, you can expect to pay between $3,000 and $5,000. For a 4 or 5-bedroom home, expect charges to range from $5,500 to nearly $8,000.
Comparing PODS to Their Competitors
PODS compares very favorably with its competitors on price. With all the major container storage companies offering similar prices for local moves, only Zippy Shell offering lower price ranges.
For moves across-country, the expenses are naturally more, and the price difference varies greatly between companies. While the cost of PODS isn't significantly more than their competitors, you will need to get a quote from each company to make sure you're getting the best deal.
Reducing Your Moving Charges
There are quite a few things you can do to reduce the cost of your move. Some folks will opt for doing the moving on their own rather than hire a professional moving company. There are, of course, pros and cons to this strategy.
If you want to move at the busiest time, you can expect to be charged more. The spring and summer months are the most popular for moving, and they are also the most expensive.
On top of that, people want to move on the weekend for obvious reasons, so you can expect lower costs if you can move midweek.
If you can reduce the amount of stuff you need to move, your costs go down too. Moving is a great opportunity to declutter your home and have a good clear out. You will end up with less work to do when packing your things and fewer expenses too.
One option worth considering is having a company come by and pick-up things you no longer need or want. There are quite a few companies that will pick-up donations for free. RentCaf'e has an excellent resource explaining about these companies.
Final Thoughts on The Cost of PODS
POD moving costs are pretty close to their competitors. To get the best deal, you should get as many quotes as possible and don't be afraid to haggle for a better price. If you can choose a less busy time for your move, your overall moving expenses will be lower.
Whenever you are renting from a portable storage container company, it is wise to ask them many questions. Here are some smart portable storage questions you should get the appropriate answers to before moving forward.
Hopefully, you have found this guide for renting a POD to be useful. Best of luck with your move!