Living in a small apartment shouldn't mean you have to sacrifice your sleep. These beds for small rooms will help you find the perfect solution.
Are you getting ready to move into an apartment that's on the smaller side? Perhaps you're living in a single story extension of a house. If so, you're going to need to make sure that you buy the right furniture for it.
More specifically, you're going to need to track down the right bed for your smaller apartment space. There are lots of beds for small rooms that would work well in the bedroom in your small apartment.
Rather than trying to stick a regular queen-size or even king-size bed into a small apartment, you should look for a space-saving bed. You can find a wide range of sleeping solutions for small spaces.
Here are eight of the best beds for small apartments.
Twin Bed
Let's say you're living in a place where your landlord had to worry about the single storey extension cost; this means your place is probably quite small. Most grown-ups would prefer not to sleep on a twin bed. But if the space in your new apartment is really limited, you might not have any other options.
A twin bed will take up significantly less space than a full-size, queen-size, or king-size bed. You'll be able to fit so much more into your bedroom when you have a twin bed set up.
Murphy Bed
You only need to use your bed for about 8 hours each day. Wouldn't it be great if there was a way to hide it for the other 16 hours?
A murphy bed makes this possible. You can fold it down when you want to go to sleep and then fold it back up when you don't need it anymore.
Murphy beds can be every bit as comfortable as other beds, too, when you use the right mattress for them. This review breaks down some of the best mattresses that you can use to build your bed.
Loft Bed
Are you concerned about the bed that you put into the bedroom in your small apartment taking up too much of your floor space? A loft bed is one of the best bed solutions for small spaces when this is the case.
You can reclaim a lot of the floor space in a bedroom by sticking a loft bed into it. Of all the beds for small rooms, this one might just open up the most space for you at all times.
Sleigh Bed
One of the ways that you can save space in a small bedroom is by running the bed in it along one of the walls. You can cut down on how much space your bed takes up by having it hug up against a wall.
A sleigh bed is designed for this exact purpose. Unlike many other beds, it'll sit flush up against a wall to prevent it from taking up more space than it should.
At the same time, it'll also add a nice decorative touch to your bedroom. It'll make your bedroom feel cozier than it would otherwise.
Canopy Bed
In theory, it might not seem like a canopy bed would be one of the best beds for small rooms. Canopy beds can sometimes take up a lot of floor space while also extending up towards the ceiling and taking up space in that way, too.
But when you pick out the right canopy bed for a small bedroom and decorate the room with the right paint colors and artwork, you can create an optical illusion. A small bedroom will look much bigger because it has a canopy bed in it.
You will, of course, need to be careful about how you design a bedroom when you plan to put a canopy bed in it. It could feel very cluttered if you're not careful.
But by using the right layout in your bedroom, you can take advantage of a canopy bed. It'll seem more spacious than it is when you're hanging out in it.
Platform Bed
Does the bedroom in your small apartment feel smaller than it is because it has low ceilings? You can combat those low ceilings by picking out a beautiful platform bed.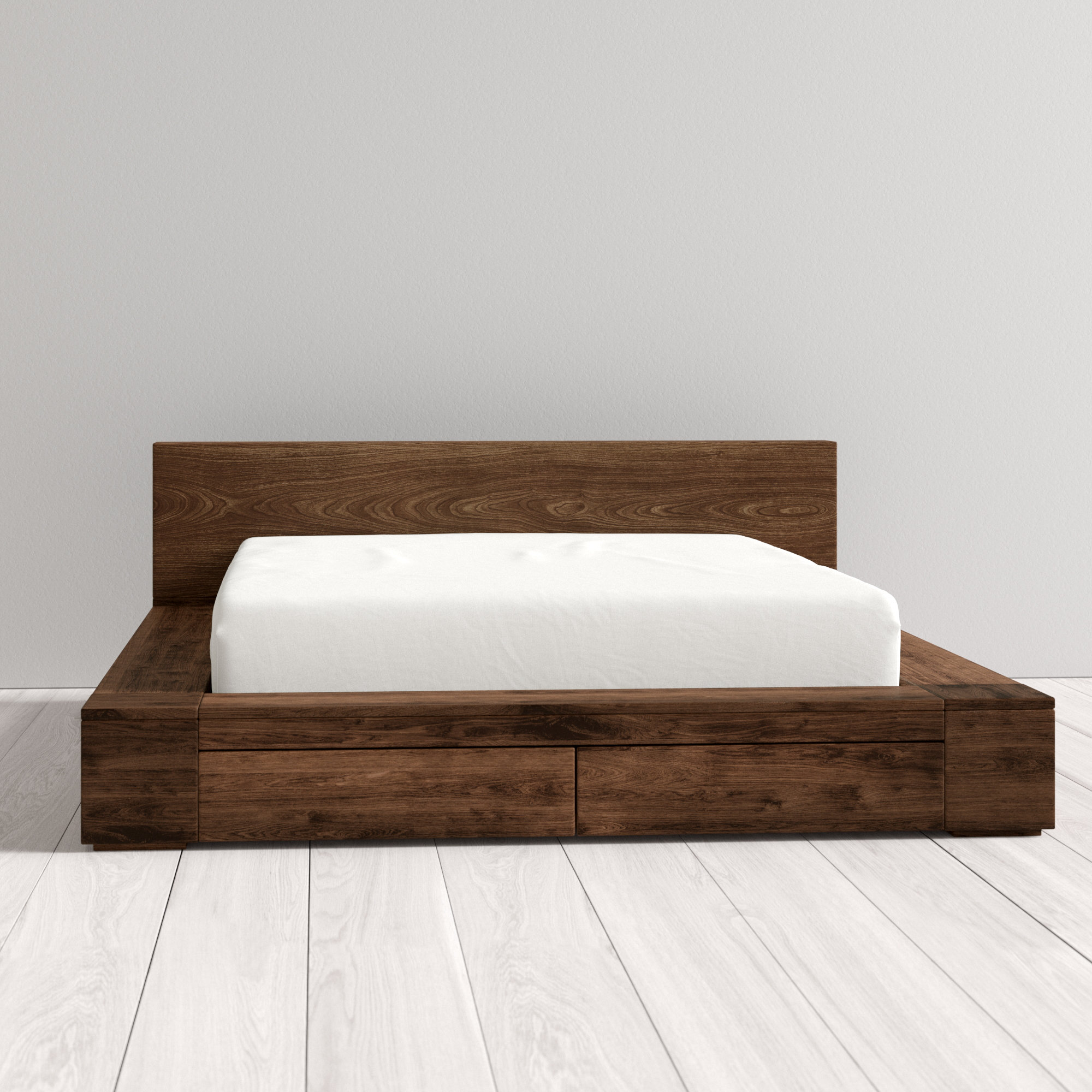 Platform beds are going to take up as much floor space as regular beds. But since they sit flush with the floor in a bedroom, they'll counteract the low ceilings in it and make it feel bigger than it is.
A platform bed might not be the best choice for those with ceilings that are a normal height in their bedroom. But they can work wonders for anyone who is trying to figure out a way to deal with having low ceilings.
Captain's Bed
What if there was an effective way to combine your bed with your dresser? That would free up some much-needed space and allow you to buy a slightly bigger bed for your small apartment.
A captain's bed is an excellent option for those who want a bed and a dresser in one. It'll look just like a regular bed, but it'll have drawers positioned underneath it to hold all your clothes.
Sleeper Sofa
You don't want to have a sleeper sofa set up in the main bedroom of your small apartment. It'll be a huge hassle pulling the bed part out every night to go to sleep.
But if you're looking for sleeping solutions for guest bedrooms in your small apartment, sleeper sofas will often do the trick. They'll provide people with places to sit during the day and fold out into beds at night so that they can sleep on them.
Which One of These Beds for Small Rooms Do You Like Best?
Some pros and cons come along with each of the beds for small rooms on this list. It'll be up to you to narrow down your choices to the one that will work best in your small apartment.
Whatever you do, don't feel like you have to buy regular beds for small apartments. They'll take up way too much of your space and make your apartment more cramped than it should be.
Go with a specialty space-saving bed instead. It'll help you get a good night's sleep every night without cutting into your apartment's square footage.
Read the other articles on our blog for tips on choosing the right mattress for whichever bed you pick out for your small apartment.